Nissan Tanzania plans to build assembly plant in the country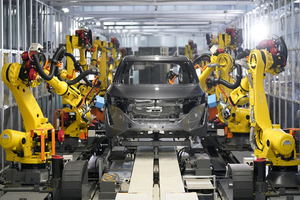 Nissan Tanzania Limited, a global automotive manufacturer, has stated that it aims to assist in the building of a factory in the nation after seeing possible signals of a rising vehicle market.
Tim Jaques, the company's chairman, made the remarks on the sidelines of an event to unveil a Nissan Navara truck, which has recently joined the Tanzanian market.
According to Jaques, conversations with officials on the idea were ongoing, and that it is part of the company's desire to help in Tanzania's economic growth.
"We are open to conversation, but we are also eager to engage in national economic growth since we have been in Tanzania for some years now and we have seen significant signals of a developing automotive vehicle industry," he added.
He stated that the presence of a favourable investment climate in the nation allows for the manufacturing of high-quality products among investors and manufacturers.
Speaking about the recently unveiled vehicle, the official stated that the new Nissan Navara pickup provides an increased degree of safety, comfort, and driving enjoyment, while also bringing durability, dependability, and adaptability to trip enthusiasts.
According to Alfred Minja, the company's marketing manager, the status of business in the country during the last year has been shaken by Covid-19.
According to him, the country's economy would benefit from the sixth phase government's signals of brighter times ahead for investment.
Posted on : 26 Mar,2023 | News Source : adqz.co
Automart is Africa's leading directory and market news website for the automotive spare parts, automobiles and auto accessories industry | Kenya | Tanzania | Ethiopia