Automotive manufacturing expected to be a major driver of African trade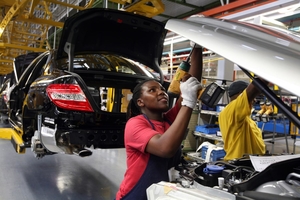 Supporters of the African Continental Free Trade Agreement (AfCFTA) believe that full tariff liberalisation in the automobile manufacturing and food processing sectors will liberate billions of dollars in regional trade, as the continent stands to gain from the world's biggest single market.
As the single biggest international market, AfCFTA, prepares to start its second implementation phase in less than a month, vehicle manufacturing and food processing have been promoted as the next great drivers of intra-African trade.
According to a new research by the United Nations Conference on Trade and Development (UNCTAD), Reaping the Potential Benefits of the African Continental Free Trade Area for Inclusive Growth, automobiles have the highest untapped export potential ($1.4 billion), followed by sugar ($1.3 billion).
Population and economic development are expected to open these industries, as well as tariff liberalisation under the AfCFTA, which might result in a multibillion-dollar bonanza for African nations.
The automobile industry is predicted to have the greatest export potential following tariff liberalisation. According to the research, tariff liberalisation promises an extra export potential of 18 percent by 2025.
Recently, there has been a surge in demand for new automobiles on the continent, driven by a growing middle class with a preference for new vehicles — at the cost of used vehicles imported from abroad markets such as Dubai and Japan.
According to the African Association of Automotive Manufacturers, the growth of regional value chains would drive new vehicle sales in Africa from 1 million to 5 million units each year.
According to Mordor Intelligence, by 2023, west and north African countries will be key drivers of growth in the automotive sector, with Morocco and Ghana touted as the next-biggest players, supplementing sales from South Africa, which currently accounts for 85 percent of all vehicle sales in Africa. Both South Africa and Morocco have aggressive automotive export goals.
"The industries benefiting the most from tariff liberalisation are also those that promise to have an increasing export potential based on supply and demand dynamics over the next five years," according to the report.
According to the UNCTAD analysis, partial tariff liberalisation under the AfCFTA will increase intra-African trade by $9.2 billion by 2025.
"The African Continental Free Trade Area has the ability to harmonise national and regional objectives through a coherent and integrated policy framework, especially on investment and competition policies, in the context of phase II of the African Continental Free Trade Area Agreement," stated the report.
GDP and population growth are expected to boost supply and demand for goods and commodities to unlock the bulk of the untapped trade and investment potential ($13.3 billion) while removal of current market frictions in African trade could yield up to $8.9 billion.
Smaller African countries have the largest potential to unlock the trade billions but are overshadowed by their bigger peers in absolute terms due to their significantly larger economies.
Posted on : 26 Mar,2023 | News Source : adqz.co
Automart is Africa's leading directory and market news website for the automotive spare parts, automobiles and auto accessories industry | Kenya | Tanzania | Ethiopia