Marathon Motors Sets Up First Electric Vehicle Charging Station in Ethiopia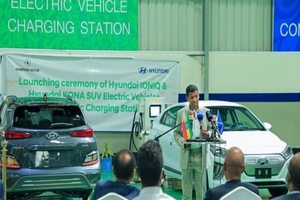 In the presence of key government officials, Marathon Motors Engineering Plc unveiled the first electric vehicle (EV) charging station in Addis Ababa, as well as new EV models.
Marathon Motors, owned by Ethiopian Olympic gold winner and business mogul Haile Gebrselassie, has been importing Hyundai Motors from South Korea for numerous years. In recent years, the business has begun building Hyundai electric vehicles in Ethiopia.
The charging station, which launched today, is intended to service owners of Marathon Motors' electric vehicles. According to Marathon Motors' CEO and Managing Director, who spoke at the charging station's launch, the business plans to install more charging stations around the nation.
According to Mr. Melkamu, Hyundai automobiles built in Ethiopia by Marathon Motors may be charged at home like mobile phones, in addition to fast-charging stations.
Ynager Dessie (PhD), Governor of the National Bank of Ethiopia, stated during the launch of the charging station that the proliferation of electric automobiles in Ethiopia will assist the government reduce its spending on gasoline imports, which is expected to be between $2 billion and $2.5 billion per year.
Posted on : 09 Jun,2023 | News Source : adqz.co
Automart is Africa's leading directory and market news website for the automotive spare parts, automobiles and auto accessories industry | Kenya | Tanzania | Ethiopia